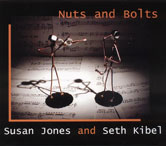 or send a check or money order for $15.00 to:
Susan Jones
5913 Pontiac Street
College Park, MD 20740
Nuts and Bolts
Nuts and Bolts (S. Kibel)
Los Bilbilicos (trad., arr. S. Jones)
Corcoran Blues (S. Kibel)
Un Poquito de Salsa (S. Jones)
Syd's Volley (R. Abbott)
Finicky (S. Kibel)
Klezmer Nova (S. Kibel)
Be Sure of Love (S. Jones)
Olmstead Cha Cha (S. Kibel)
Lester Leaps Out (S. Kibel)
Susan Jones - violin
Seth Kibel - tenor saxophone, clarinet, flute
Paul Wingo - guitar
James Levy - piano
Bob Abbott - bass
James King - bass
Tom Jones - assorted shakers
Original acoustic jazz from violinist Susan Jones and saxophonist/clarinetist/flutist Seth Kibel, drawing upon a variety of diverse musical influences.
The brand new CD release Nuts and Bolts brings together Seth Kibel and Susan Jones, both of whom play with numerous musical ensembles in the Washington/Baltimore region, for an album of original acoustic jazz compositions.
Both have demonstrated their expertise in jazz, swing, blues, klezmer and classical music throughout the Mid-Atlantic area. In their first collaboration, they introduce diverse elements into their compositions and provide skilled performances and improvisations.
The title track, written by Kibel, has a funk and rock and roll feel. His "Klezmer Nova" combines traditional Jewish folk sounds with bossa nova rhythms. Jones provides a Cuban flavor with "Un Poquito de Salsa" and draws on the Ladino folk tradition - which combines Spanish folk music and Jewish soul - on her arrangement of the traditional song, "Los Bilbilicos."
They are joined by guitarist Paul Wingo, pianist James Levy, bassist James King and bassist Bob Abbott, who also contributed an original tune.
The album includes six songs by Kibel, who plays tenor saxophone, clarinet and flute on the recording. He is leader, clarinetist, and composer for the area's premier "alternative klezmer" band, The Alexandria Kleztet. That band has released two albums, both of which won the Washington Area Music Association (WAMA) award for Best World Music Recording. He also fronts the swing group Corner Pocket and Seth Kibel's Dixieland All-Stars as well as performing with numerous area bands. He spent several years as saxophonist for The Daryl Davis Band. Jones contributes three original tunes and arrangements to the album and plays violin. Jones leads the Susan Jones Quartet, which has released one album, Violin Dreams. She performs regularly with the Machaya Klezmer Band, Silver String Quintet, Mariachi De las Compadres and the rock group Jane Doe.